Nutrition
Overview
Nutrition can be overwhelming and difficult to balance with a busy schedule and a small budget during college. However, nourishing your body promotes concentration, keeps you alert, and energized throughout the day. Use these tips below to improve your eating habits.
Nutrition Tips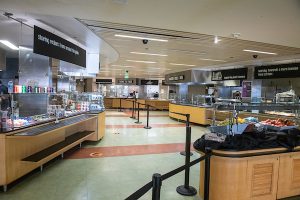 Nutrition is holistic. Often students think improving nutrition includes eliminating "unhealthy" foods and only eating "healthy" foods. However, all foods are good foods. We want to make we have a good balance of foods that nourish our body and foods that we enjoy! Having variety in your diet allows you to get an array of vitamins and minerals important for overall well-being.
Nourish your body with fruits and vegetables. Just adding nutritional foods to your current meals can help you have a more holistic diet. Expand the food groups you are eating by adding vegetables, nuts, or seeds to these meals.
Be prepared before going to the grocery store. If you are on a budget or get overwhelmed when grocery shopping create a plan of action to make sure you aren't overspending and get the ingredients you need. Use coupons (cut them out of your local newspaper or find them on your grocery store app) to help cut costs, make a grocery list that has your weekly meals planned, and gradually purchase ingredients that are more expensive such as seasonings, nuts, or seeds each time you go to the store.
Pack lunches and snacks for campus. When you are on campus, pack lunches, dinners, and snacks to help you stay full and focused throughout your day. Pack foods with protein and grains to help stay full longer, especially if you have a long day.
Hydrate with water. With caffeine culture, students may forget to drink enough water each day. Drinking enough water each day can help you from overeating, avoid dehydration headaches, and keep you focused.
Budget tips for every food group. If you are struggling to understand how to buy foods of a certain food group (protein, fruits, vegetables, or grains) on a budget. Check out this helpful page.
Expand the type of meals you make. Eating the same meals every week? Check out these simple ingredient recipes to give you variety without hurting your budget.
Budget-Friendly Fruits and Vegetables
One of the main reasons students find it difficult to incorporate fruits and vegetables into their meals is because of the high costs. Sometimes fruits and vegetables will be on sale, depending on the season and demand. Another way to get cheaper fruits and vegetables is to go to farmers' markets. When both of those choices aren't available, head to the frozen food aisle to stock up on your favorites. Below are some tips and information on frozen fruits and vegetables.
From nutrition tips to recipes to make on a college budget. Check out the JHU Campus Well content on food and nutrition to learn more.
Educational Handouts
Resources
Meatless Monday: Vegetarian recipes
Cook Smarts contains information on meal planning, guides, infographics, and cooking lessons. Designed to educate, inspire, and nourish.
Nutrition Source aims to provide timely, evidence-based information on diet and nutrition for clinicians, allied health professionals, and the public.
The Vegetarian Resource Group (VRG) is a non-profit organization dedicated to educating the public on vegetarianism and the interrelated issues of health, nutrition, ecology, ethics, and world hunger. Registered dietitians and physicians aid in the development of nutrition-related publications and answer member or media questions about the vegetarian diet.