Bystander Intervention Training (BIT)
The Bystander Intervention Training program teaches students about gender-based violence, consent, and bystander intervention skills. Upon completion of BIT, students will know how to safely intervene in situations that could immediately lead to violence and how to interrupt a culture that is permissive to gender violence. Students will acquire intervention tools to use in situations that seem risky in order to become effective and active bystanders. The BIT program discusses topics including intimate partner violence, sexual assault, stalking, harassment, survivor empathy, and consent. BIT is taught peer-to-peer in two 2.5-hour sessions. Students must attend both sessions in full to complete BIT. To request a BIT program for your group email jhuchew@jhu.edu.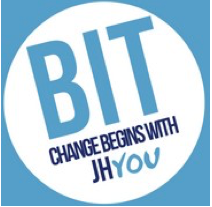 Adapted from a training developed at the University of New Hampshire and Duke University, BIT's goal is to reduce the incidence of sexual and relationship violence on campus by training participants to intervene in safe and creative ways, rather than standing aside as passive bystanders.
Data collected since 2014 demonstrates that BIT increases students' pro-social intervention behaviors, reduces their acceptance of common rape myths, and increases their confidence in being able to intervene with strangers and acquaintances as well as with friends.
BIT addresses:
Types of gender violence (sexual assault, intimate partner violence, stalking, sexual harassment)
Definition of consent ("Only an enthusiastic yes means yes!")
Healthy, positive sexual communication
Consent and the use of alcohol and drugs
Rape culture
Common scenarios of concern
Building empathy for victims
Supporting victim-survivors after an incident of gender violence
Common perpetrator characteristics
Gender violence "red flags"
Practical and safe intervention techniques
Resources